Engine driven hot water high pressure washers
Indipendent hot water high pressure washers, driven by diesel engines. High-performance and silent, they are available in both static version or equipped with specific wheels for movement even in rough terrain, as in  construction sites, in general. 
have a look at the video of the
engine driven pressure cleaners
A general presentation of the models and a focus on the Kubota D1105 version.
PROFESSIONAL HIGH-PRESSURE CLEANERS BUILT USING
• Sandblasting of monuments, paving stones and squares • Washing of airports, road and motorway signs, railway and metro stations, railway, road and motorway tunnels • Scaling and paint removal • Graffiti removal • Washing units for municipalities and contractors • Shipyards (cleaning of ship hulls and fishing boats) • Construction sites (removal of cement or concrete residues) • Mining sites • Off-road vehicle washing • Cleaning of pipelines • Removal of rust • Removal of advertising posters.
DESIGNED FOR DURABILITY AND NON-STOP OPERATION
Reliable components and an integral painted steel structure provide the specific robustness to operate in general construction sectors.
The integral bodywork reduces noise emissions and is designed to withstand extreme working environments.
The solid metal structure is equipped with a double anti-vibration system.
Versions on wheels are available, equipped with 2 fixed pneumatic rear wheels and 2 pivoting pneumatic front wheels with brake, and also skid versions, with a painted steel base and rubber feet.
Both can be fitted with hooks for aerial handling with lifting equipment.
THE HW KART RANGE, THANKS TO ITS HIGH-EFFICIENCY BOILER AND ITS STRONG INTEGRAL BODYWORK, IS IDEAL FOR CONSTRUCTION SITES AND
A robust, professional and high-performance range designed to last.
| MODEL | PRESSURE | DELIVERY | PUMP SPEED | ENGINE POWER | ENGINE TYPE | TEMPERATURE | DIMENSIONS |
| --- | --- | --- | --- | --- | --- | --- | --- |
| HW KART 15.200 D | 200 BAR | 15 L/min | 1450 rpm | 10,5 HP | YANMAR | 30 - 140 °C | 143x80x95 cm |
| HW KART 21.200 D | 200 BAR | 21 L/min | 1450 rpm | 18 HP | KUBOTA | 30 - 140 °C | 143x80x95 cm |
| HW KART 18.300 | 300 BAR | 18 L/min | 1450 rpm | 18 HP | KUBOTA | 30 - 140 °C | 143x80x95 cm |
Noise-reducing integral bodywork designed to withstand extreme working environments: • Solid painted steel structure with double anti-vibration system, with openable painted steel bodywork • 2 d. 400mm fixed pneumatic wheels, with steel disc and ball bearings • 2 d. 260mm pivoting pneumatic wheels with brake, with steel disc and ball bearings • HW Kart is also available in skid version, with a painted steel base and rubber feet • Three ceramic piston pump with rod operation • Engines: Yanmar single cylinder; Kubota three-cylinder, water-cooled • Pump-engine coupling: by means of reduction gear for single-cylinder engines; by means of belts and pulleys for three-cylinder engines • High-efficiency diesel boiler, running on 12V current generated by an alternator • Control panel with starter key • Electric starter • Automatic engine speed regulator controlled directly from the gun • Pressure and delivery adjusting valve • Pressure regulator • Water filter •  Integrated 35L diesel tank.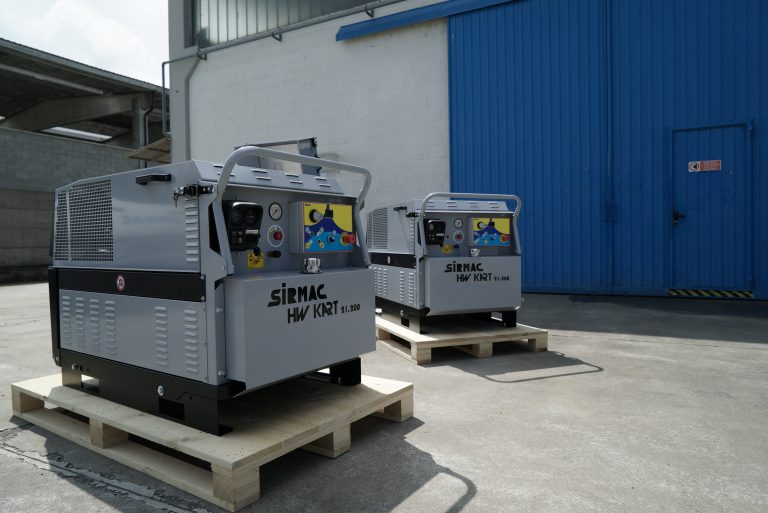 Complete and intuitive control panel: • General engine start key switch • Engine control lights • Engine working hours meter • Boiler start switch • Voltage indicator • Low diesel warning light • Thermostat • Pressure gauge • Pressure and flow control valve • Emergency stop button.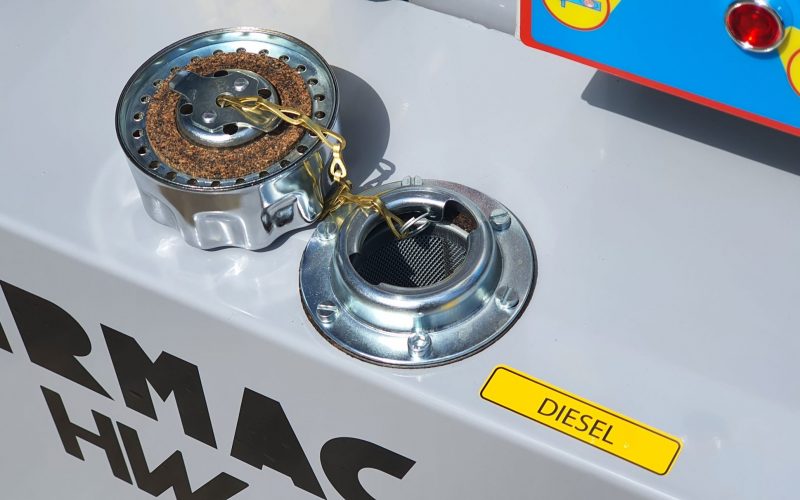 We design special structures that include, in addition to the autonomous high-pressure cleaner, a water supply tank and hose reels for high and low pressure. Depending on the dimensions specified by the user and corresponding to the space available on the dedicated vehicle, we make special stainless steel tanks that serve as a base for HW Kart, equipped with fixing brackets.
The tanks are also equipped with openings for handling with the forks of a forklift truck.
Specific models are also available to be supplied with sea water with structure, pump, coil and metal parts of the hydraulic circuit in AISI 316 stainless steel and models for hydro-sandblasting equipped with specific accessories for the required power and with tanks containing calibrated sand.
On request, we manufacture HW Kart 30.200D and HW Kart 41.140D models equipped with Kubota engines and pumps with high flow rates, 30L/min and 41L/min respectively, with double boiler capable of reaching a water temperature at total flow rate of 90°C for the 30.200D model and 70°C for the 41.140D model.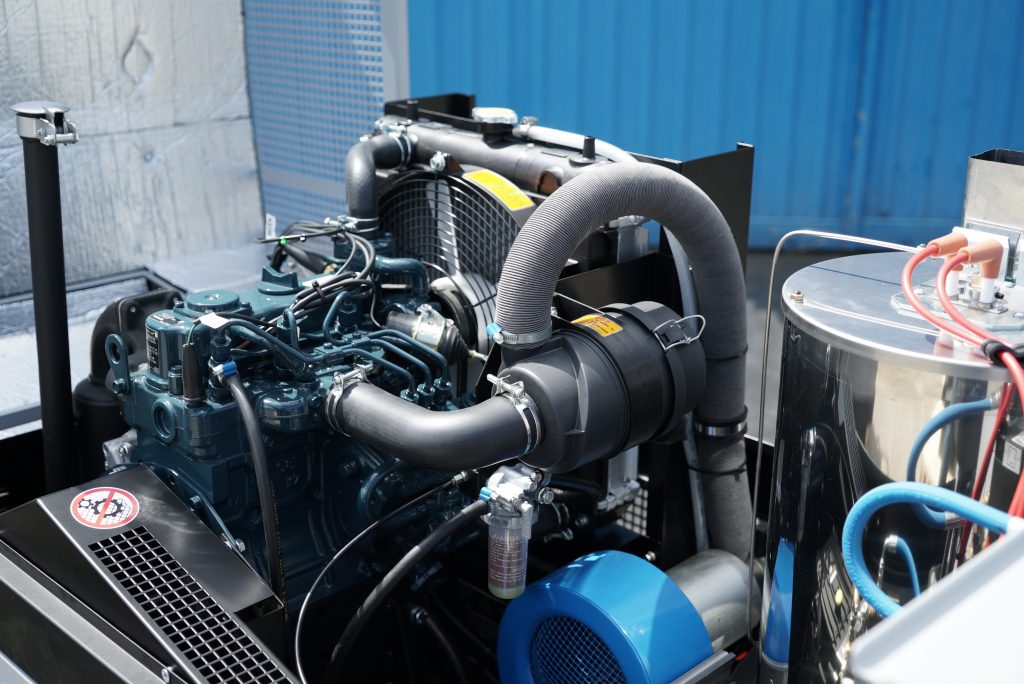 High efficiency, high performance boiler unit with emissions between 0 and 1 on the Bacharach scale.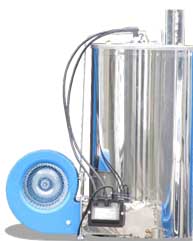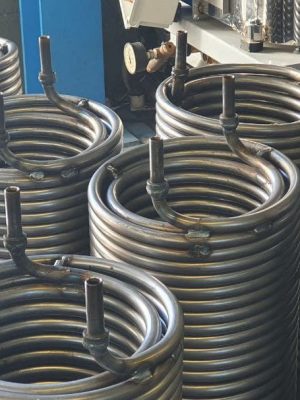 are you interested in engine driven hot water pressure washers?
We will be happy to help you choose the best pressure washer.
The accessories are designed for professional and industrial use, in compliance with safety regulations.
The 15 m high-pressure hose supplied with the machine allows even large equipment to be washed at a safe distance from the cleaner. On request, we supply longer hoses to facilitate the washing of large structures.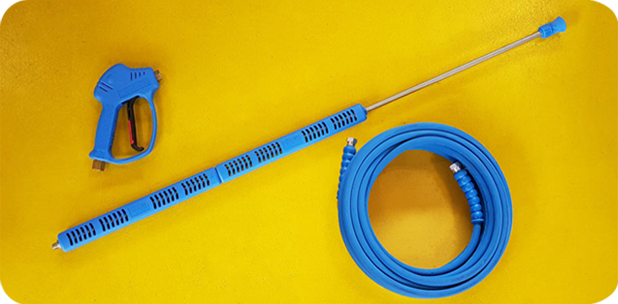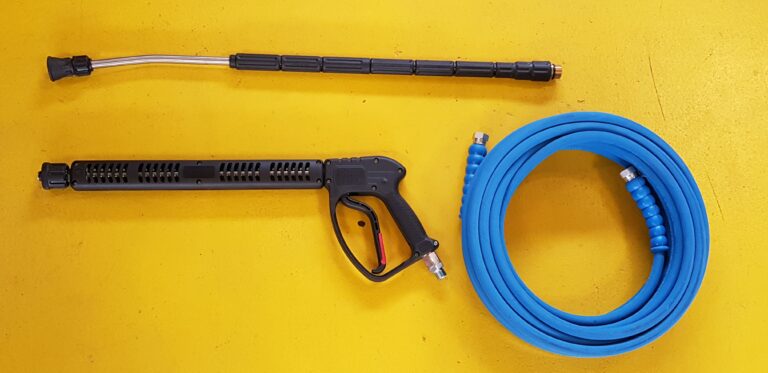 Our future shaped by over 50 years of experience.