ultra-high pressure, high flow rate pressure washers
Cold water high pressure washers with robust painted steel bodywork, for industrial use. Available on wheels or in skid version.
AND FOR CONTINUOUS OPERATION
Models with high flow rates up to 98L/min and models with ultra-high pressure up to 1200 Bar are available.
Gpf high pressure washers are designed for particularly heavy and demanding industrial use and are therefore equipped with components that guarantee maximum reliability. 
The robust, integral epoxy powder-coated steel bodywork protects the internal parts of the machine, making it resistant to time and use. 
Moreover, the high quality of the components allows the high-pressure cleaner to be used non-stop, without any cooling pauses.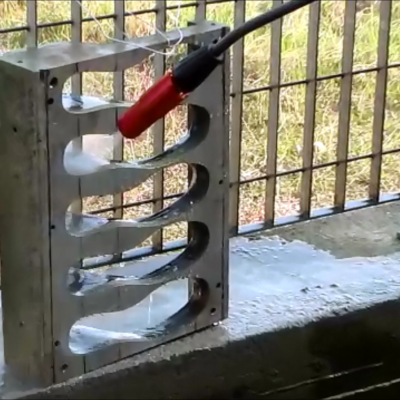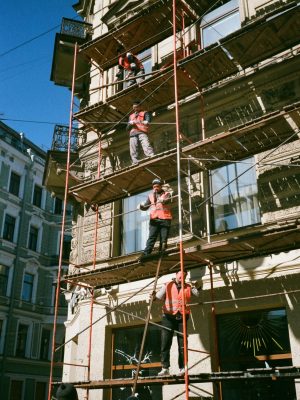 PROFESSIONAL HIGH-PRESSURE CLEANERS BUILT USING
The electric motors offer high performance by stabilising the operating temperature at constant values for unlimited use thanks to heavy-duty configuration.
The motor power chosen for coupling to the pumps is always oversized so that the power required by the pumps never reaches the maximum available values.
High performance industrial pumps
The 3 ceramic piston inline pumps are largely oversized, allowing only partial use of the maximum pressure for which they were designed.
This feature, together with that of the heavy-duty electric motors, allows the high pressure washers GPF to operate without cooling pauses.
The motor-pump coupling is carried out by a system of pulleys and belts protected by a safety casing.
Each GPF model can be made to meet the requirements of users, which become more and more detailed the more specialised the application is and, consequently, the power of the cleaner.
We manufacture versions with direct motor start or star-delta start; versions equipped simply with a safety valve or versions equipped with a system that stops the machine after a by-pass operating time, which can be adjusted during construction.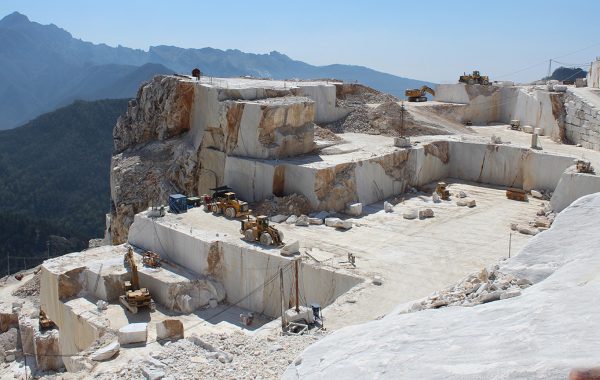 there are many areas of application:
• Shipyards (cleaning of ship hulls and fishing vessels) • Automotive production • Chemical industry • Heavy industry • Construction sites (removal of cement or concrete residues) • Metalworking • Stone working • Paper production • Processing of oil products • Transport industry • Mining industry • Cleaning of buildings • Scaling and paint removal • Graffiti and advertising poster removal • Power plants • Public works • Agriculture • Pipe cleaning • Rust removal • Cleaning of sieves, filters and tanks • Surface preparation • All types of surface removal.
Maximum performance for industrial use
GPF high pressure washers, both standard and customised, are suitable for many applications where very high flow rates or very high pressure are required.
The GPF 98.200 is particularly suitable for automatic systems consisting of several high-pressure jets and for feeding rotating heads for washing large tanks and tankers.
The GPF 15.1200 model is specifically designed for descaling in general and specifically in paint rooms to recondition decanting grids by removing superfluous paint deposits. 
A further specific use is the washing and descaling of ship hulls both out of water and, for larger vessels, working with professionals specialised in washing underwater.
For the use of the pressure washer in a stationary version, without wheels, located in a technical room, remote controls can be provided. 
Specific models are also available for seawater supply with structure, pump and water circuit in AISI 316 stainless steel and models for hydro-sandblasting equipped with specific accessories for the required power and with tanks for the accumulation of calibrated sand. 
Both the skid and the mobile versions can be equipped with special hooks for lifting with a crane. 
It is also possible to equip the upper bonnet with soundproofing panels.
| MODEL | PRESSURE | DELIVERY | MOTOR POWER | POWER SUPPLY | DIMENSIONS | WEIGHT |
| --- | --- | --- | --- | --- | --- | --- |
| GPF 98.200 | 200 BAR | 98 L/MIN | 50 HP | 3ph - 37,5 kW | 126x99x113 cm | 660 KG |
| GPF 50.400 | 400 BAR | 50 L/MIN | 50 HP | 3ph - 37,5 kW | 126x99x113 cm | 670 KG |
| GPF 30.600 | 600 BAR | 30 L/MIN | 50 HP | 3ph - 37,5 kW | 126x99x113 cm | 670 KG |
| GPF 19.800 | 800 BAR | 19 L/MIN | 40 HP | 3ph - 30 kW | 126x99x113 cm | 615 KG |
| GPF 19.1000 | 1000 BAR | 19 L/MIN | 50 HP | 3ph - 37,5 kW | 126x99x113 cm | 665 KG |
| GPF 15.1200 | 1200 BAR | 15 L/MIN | 50 HP | 3ph - 37,5 kW | 126x99x113 cm | 685 KG |
Robust integral bodywork to withstand extreme working environments: • Solid structure with openable bodywork in epoxy powder-coated steel • 2 fixed pneumatic wheels d. 400mm, 6-ply with steel disc and ball bearings • 2 pivoting pneumatic wheels with brake, d. 260mm, 6-ply with steel disc and ball bearings • Gpf is also available in skid version • Pump-motor coupling with belt drive • Safety valve • Adjustable pressure via by-pass valve (optional) • 24V control panel complete with machine on/off switch, indicator lights and emergency stop button.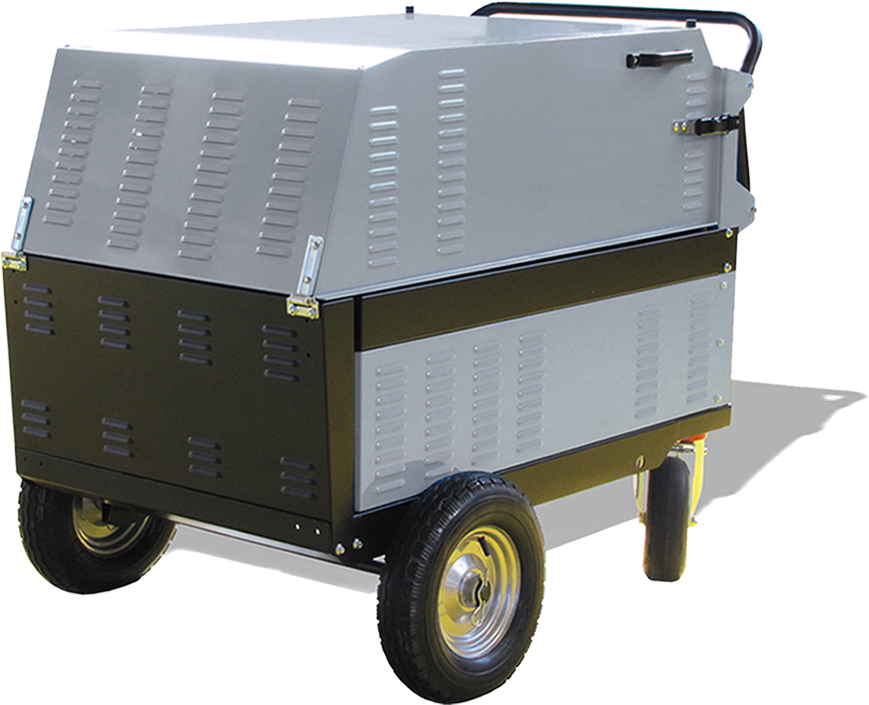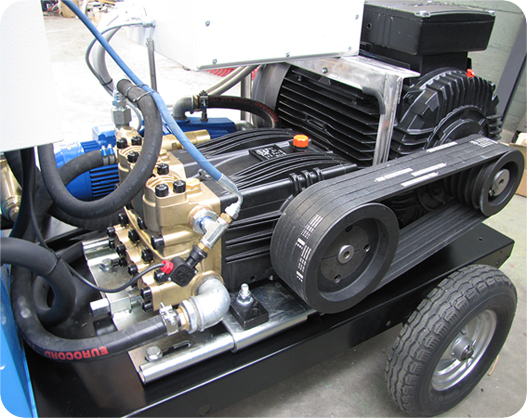 are you interested in ULTRA-high pressure washers ?
We will be happy to help you choose the best pressure washer.
Washing applications are very varied and each company has its own particular requirements, which cannot always be accommodated by standard installations.
We design units on palletised frames that can be mounted on dedicated vehicles including, in addition to the high-pressure washer, a water tank, available in both stainless steel and plastic, two hose reels for high and low pressure and a storage compartment for accessories.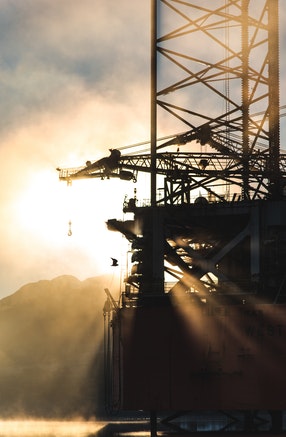 for PROFESSIONAL and INDUSTRIAL USE
The accessories are for professional use, in compliance with safety regulations. The 15 m high-pressure hose supplied with the machine allows even large equipment to be washed at a safe distance from the cleaner.
For all Gfp models it is important that the supply water pressure is at least 3 Bar. If the supply sources are located at a lower level than the cleaner or if the supply pressure is insufficient, the machine must be equipped with an automatic pump to supply pressurised water into the circuit.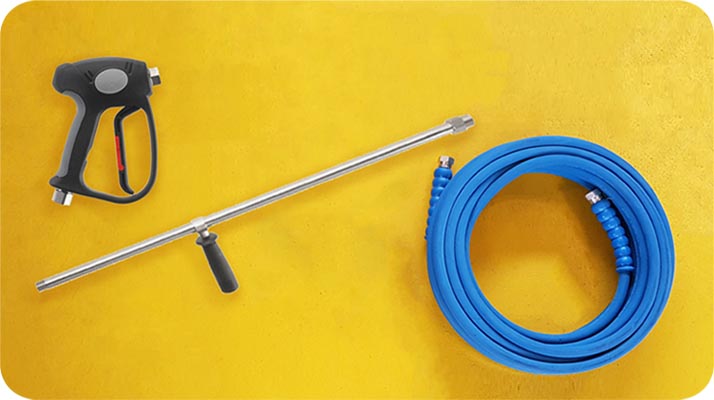 Our future shaped by over 50 years of experience.