Independent cold water high-pressure washers
Powerful, professional engine-driven high-pressure washers for the toughest working conditions. Available with diesel or petrol engines, up to 500 Bar in the more compact CW KART bodywork and in a customised, even more powerful diesel version in the CW MAX bodywork.
AND FOR CONTINUOUS OPERATION
Powerful, robust and compact independent pressure washers designed for heavy-duty applications.
The range of independent cold water high pressure washers consists of two distinct models: the robust and compact CW KART models that can accommodate both diesel and petrol engines with a power rating of up to 25 HP and the CW MAX models with a solid painted steel body capable of housing even more powerful diesel engines. 
Both ranges stand out for the high reliability of their components. 
The CW MAX version is also available with AISI 316 stainless steel body and high-pressure pump, suitable for the corrosive action of the marine environment. Models suitable for seawater use are also produced. 
The compact CW Kart range also has no plastic body parts that can quickly become fragile and discoloured.
independent PROFESSIONAL and industrial HIGH-PROFESSIONAL CLEANERS, BUILT USING
Latest generation of engines
in compliance with European regulations on pollutant emissions.
Honda GX390 single-cylinder; Honda GX630 two-cylinders; Honda GX690 two-cylinders; Yanmar single cylinder and for CW Max, Kubota three-cylinder water-cooled.
Kubota and Honda engines are always oversized with respect to power demand, never exploiting the maximum allowed rpm and guaranteeing a long service life and a high reduction in air and noise pollution.
The vibrations generated by the engines are practically eliminated by a system of dual support bases and shock absorbers.
1450 rpm professional pumps
The 3 ceramic pistons inline pumps are largely oversized, allowing only partial use of the maximum pressure for which they were designed.
This feature, together with that of heavy duty engines, allows the high pressure washers CW Kart and CW Max to operate without cooling pauses.
The pump-engine coupling in the CW Kart range is achieved by means of a reduction gear.
Versions for every work requirement
Washing applications are quite varied and each company has particular requirements, which cannot always be met by standard installations.
Sirmac carries out projects and designs, upon request, specific high pressure washers for every working need in several economic sectors such as agrifood, industry, breeding, construction sites, etc.
there are many areas of application:
• Shipyards (cleaning of ship hulls and fishing vessels) • Construction sites (removal of cement or concrete residues) • Heavy industry (metal working, stone working, etc.) • Transport sector • Mining industry • Scaling and paint removal • Graffiti removal • Public works  • Cleaning of pipelines • Rust removal • Agriculture • Surface preparation • Removal of weeds developing in the joints of paved surfaces • Hydro-sandblasting on rusty metal surfaces, boat hulls, removal of scale on masonry, concrete or marble surfaces. 
POWERFUL AND VERSATILE HIGH-PRESSURE CLEANERS
Cold-water, independent high-pressure washers powered by diesel or petrol engines, ideal in any environment where electricity is not available.
Mobile versions available for construction, shipbuilding and mining sites and for off-road vehicle washing and stationary versions, mounted on vehicles and equipped with a water reservoir for washing and sandblasting monuments, pavements, squares, airports, road signs, railway and underground stations, road or railway tunnels, graffiti removal, weeding between pavement joints in outdoor areas.
Hydro-sandblasting models are also available equipped with specific accessories for the required power and with tanks containing calibrated sand. 
THE CW KART AND CW MAX RANGES ARE IDEAL FOR USE ON CONSTRUCTION SITES AND IN THE CONSTRUCTION INDUSTRY.
Robust, high-performance, independent pressure washers.
| MODEL | PRESSURE | DELIVERY | ENGINE POWER | POWER SUPPLY | ENGINE TYPE | DIMENSIONS |
| --- | --- | --- | --- | --- | --- | --- |
| CW KART 15.200B | 200 BAR | 15 L/min | 13 HP | BENZINA | HONDA GX390 | 105x71x85 cm |
| CW KART 21.200B | 200 BAR | 21 L/min | 13 HP | BENZINA | HONDA GX390 | 105x71x85 cm |
| CW KART 15.200D | 200 BAR | 15 L/min | 10,5 HP | GASOLIO | YANMAR | 105x71x85 cm |
| CW KART 25.250B | 250 BAR | 25 L/min | 21 HP | BENZINA | HONDA GX630 | 105x71x85 cm |
| CW KART 23.350B | 350 BAR | 23 L/min | 24 HP | BENZINA | HONDA GX690 | 105x71x85 cm |
| CW KART 15.400B | 400 BAR | 15 L/min | 24 HP | BENZINA | HONDA GX630 | 105x71x85 cm |
| CW KART 18.400B | 400 BAR | 18 L/min | 24 HP | BENZINA | HONDA GX690 | 105x71x85 cm |
| CW KART 15.500B | 500 BAR | 15 L/min | 24 HP | BENZINA | HONDA GX690 | 105x71x85 cm |
CW Kart and CW Max, the two versions of autonomous cold water high pressure washers designed for every work requirement. The features in detail:
robust, powerful and compact versions
Sturdy and professional: • Painted steel structure and panels • Four 260mm diameter wheels • Braking device on both rear wheels • Three ceramic pistons pump with rod operation • Engines: Honda GX390 single-cylinder; Honda GX630 two-cylinders ; Honda GX690 two-cylinders ; Yanmar single cylinder • Manual start and electric start versions are available • Pump-engine coupling by means of a reduction gearbox • Engine mount with vibration dampers to absorb vibrations caused by the engine • Automatic engine speed regulator controlled directly from the gun • Pressure regulator • Water filter.
the more powerful versions with the highest performances
The CW MAX Diesel independent version is made of a robust integral body in epoxy powder-coated steel, available in both mobile and skid versions, designed to accommodate much more powerful Diesel engines for even higher performances • Three ceramic piston pump with rod operation • Kubota 3-cylinder, water-cooled diesel engines • Pump-engine coupling by means of pulleys and belts • Pressure regulating valve • Safety valve • Water filter • Watertight electrical equipment container.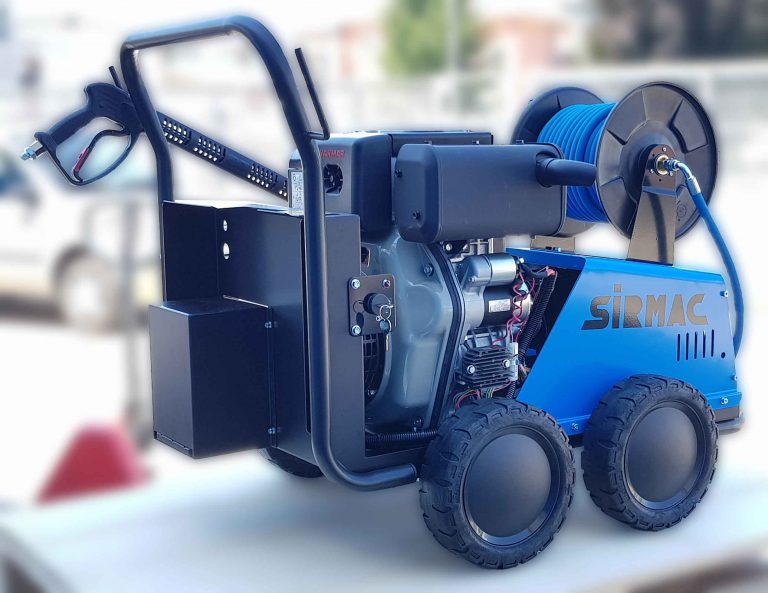 are you interested in cold water independent high pressure washers?
We will be happy to help you choose the best pressure washer.
We design special structures including, in addition to the independent high-pressure cleaner, a water supply tank and hose reels for high and low pressure.
Depending on the dimensions specified by the user and corresponding to the space available on the dedicated vehicle, we make special stainless steel tanks that serve as a base for CW Karts, equipped with fixing brackets. The tanks are also equipped with lifting hooks or openings for handling with the forks of a forklift truck.
CW Max, made on request, is the most powerful version, equipped with three-cylinder diesel engines for applications requiring greater flow and/or pressure.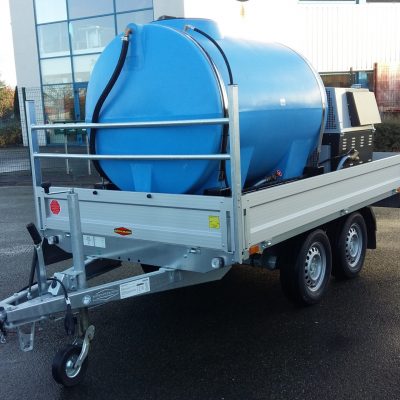 The accessories are designed for professional and industrial use, in compliance with safety regulations.
The 15 m high-pressure hose supplied with the machine allows even large equipment to be washed at a safe distance from the cleaner. On request, we supply longer hoses to facilitate the washing of large structures.
With the application of a feed pump they are able to draw in water even with a large difference in height.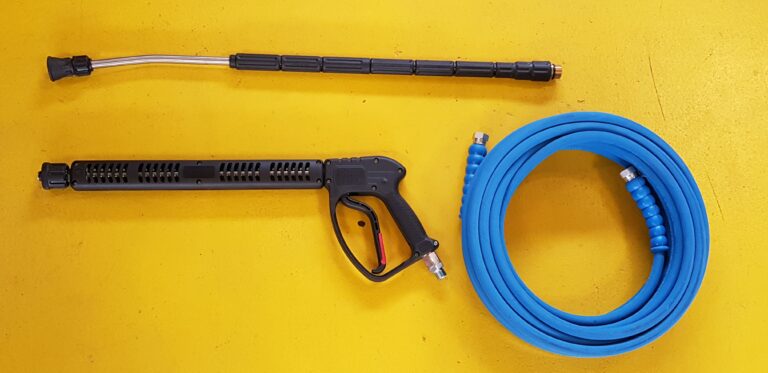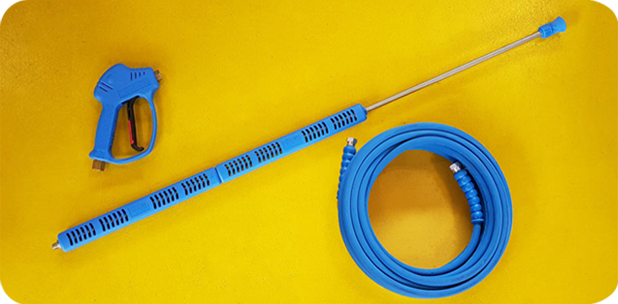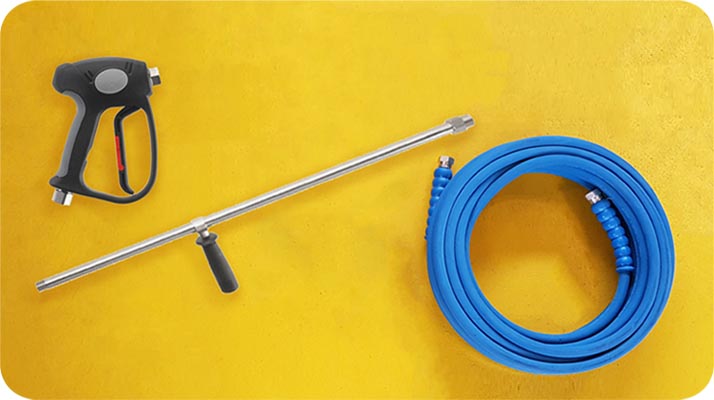 Our future shaped by over 50 years of experience.