Hot water high-pressure washers
Mobile hot water high pressure washers for professional and industrial use. The range includes very high performance models, equipped with 15HP motors to deliver a flow rate of 30L/min or achieve a pressure of 300Bar.
Increased productivity when removing stubborn dirt, encrusted, oily and greasy stains thanks to hot water that dissolves dirt more quickly, optimising work time and reducing detergent consumption.
AND FOR CONTINUOUS OPERATION
Robust, compact and high-performance professional high-pressure cleaners with a high-performance boiler.
The Indra range stands out for the high reliability of its components and its versatility of application; they are sturdy high-pressure cleaners designed to last.
The 4 rotomoulded tanks integrated in the structure have been designed to guarantee large capacity and very high resistance.
Their high and consistent thickness at every point makes them extremely robust and impact resistant.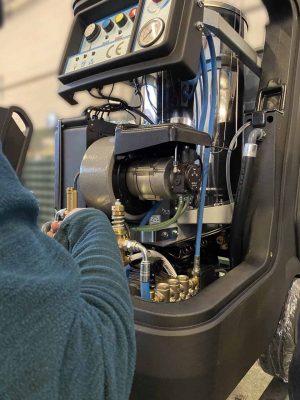 PROFESSIONAL HIGH-PRESSURE CLEANERS BUILT USING
Motori servizio continuo S1
I motori elettrici offrono elevate prestazioni stabilizzando la temperatura di esercizio in valori costanti per un utilizzo illimitato grazie al servizio continuo in S1.
La potenza del motore scelta per l'accoppiamento alle pompe è sempre sovradimensionata in modo che la potenza richiesta dalle pompe non raggiunga mai i valori massimi disponibili. 
Pompe professionali 1450 rpm
Le pompe in linea a 3 pistoni in ceramica sono ampiamente sovradimensionate, permettendo l'utilizzo solo parziale della pressione massima per cui sono state progettate.
Questa caratteristica, unitamente a quella dei motori elettrici in servizio continuo S1, permette alle idropulitrici Indra di lavorare senza pause di raffreddamento.
L'accoppiamento pompa-motore non è diretto, bensì è realizzato mediante giunto elastico per permettere che nel tempo, in caso di rottura del sistema di accoppiamento, l'intervento sia di lieve entità e rapido e non con la prospettiva di grosse operazioni di sostituzione di componenti. 
Sistemi di sicurezza avanzati
Le idropulitrici Indra sono dotate di una solida scheda elettronica, specificamente progettata, che gestisce le funzioni della macchina e tutte le segnalazioni. 
Tutte le funzioni e segnalazioni vengono gestiti in completa sicurezza, garantendo la risoluzione immediata di eventuali guasti. La gamma è infatti dotata di sicurezze avanzate e la scheda elettronica segnala al riparatore, con appositi led posti sul circuito stampato, il corretto funzionamento o eventuali avarie dei componenti elettrici. Vi è inoltre una segnalazione completa delle funzioni direttamente sul pannello comandi per consultazione e controllo da parte dell'utilizzatore.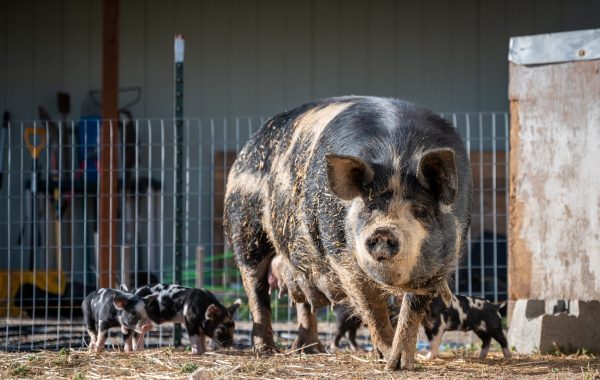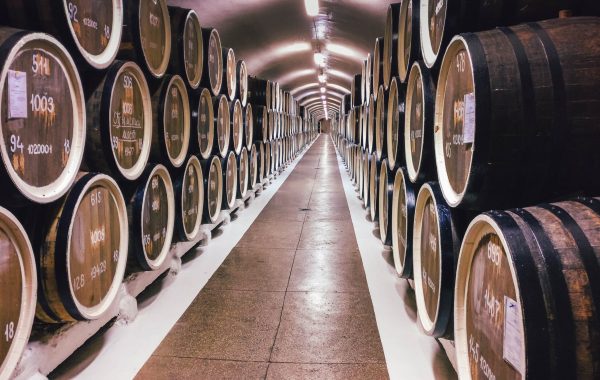 • Vehicle washing • Car repair • Food industries • Charcuterie and cheese factories • Meat processing and distribution • Poultry farms for cleaning and sanitation of breeding areas • Livestock farms for cleaning and sanitation of delivery, feeding and breeding rooms • Milking plants • Egg producers • Washing of operating rooms and mobile packaging lines • Food storage companies • Mechanical industries • Chemical industries • Wine companies • Washing barrels, tanks also in combination with rotating heads • Fish processing and distribution industries • Production of ready-made and precooked food • Washing in covered food and fruit markets • Construction sites • Shipyards • Airports • Harbours and docks • Mechanical industries for washing at the end of processing cycles.
THE ONLY MOBILE HIGH-PRESSURE CLEANER WITH A 21L ROTOFORMED WATER TANK
NVY models in the Acqua and Fuoco range are designed with a large-capacity water tank which, thanks to its vertical shape, allows a perfect supply to the pump, which always receives water under pressure and without air bubbles. This structure gives great manoeuvrability and great usability and allows to occupy a reduced space on the ground despite the fact that the structure can incorporate high-power pump-motor units (15 HP).
The electronic board is highly professional.
The autotransformer that distributes the power supply is independent of the circuit board and fixed on a metal plate.
On the printed circuit board, a number of micro-led lights alert maintenance staff to the origin of any malfunctions.
High-performance electric motors which stabilise the operating temperature at constant and absolutely suitable values, and largely over-dimensioned 3 ceramic piston inline pumps, which work by only partially utilising the maximum operating pressure for which they have been designed 
allow each model to be used continuously without the need for cooling pauses.
For coupling to 21 L/min 150bar pumps, an 8.5HP motor is correctly chosen and not 7.5HP as is commonly used.
The pump-motor connection is by means of a flexible coupling located in the gap between the two motor flanges.
USE AS A STATIONARY CLEANER
NVY high-pressure washers, when placed in a technical room as stationary and equipped with flame control, remote control and chimney extension, supply a water network that connects the machine to the washing locations. 
THE ACQUA E FUOCO RANGE, THANKS TO ITS HIGH EFFICIENCY BOILER, IS IDEAL FOR DEEP CLEANING IN
A complete and versatile range, highly professional, performing but at the same time easy to move thanks to its special structure and two frontal directional wheels.
| MODEL | PRESSURE | DELIVERY | PUMP RPM | MOTOR POWER | POWER SUPPLY | TEMPERATURE | DIMENSIONS |
| --- | --- | --- | --- | --- | --- | --- | --- |
| NVY 15.200 | 200 BAR | 15 L/min | 1450 rpm | 7,5 HP | 1ph - 6,8 kW | 30 - 140 °C | 97x65x122 cm |
| NVY 18.160 | 160 BAR | 18 L/min | 1450 rpm | 7,5 HP | 3ph - 6,8 kW | 30 - 140 °C | 97x65x122 cm |
| NVY 21.150 | 150 BAR | 21 L/min | 1450 rpm | 8,5 HP | 3ph - 7,6 kW | 30 - 140 °C | 97x65x122 cm |
| NVY 21.200 | 200 BAR | 21 L/min | 1450 rpm | 10 HP | 3ph - 8,9 kW | 30 - 140 °C | 97x65x122 cm |
| NVY 15.250 | 250 BAR | 15 L/min | 1450 rpm | 10 HP | 3ph - 8,9 kW | 30 - 140 °C | 97x65x122 cm |
| NVY 21.250 | 250 BAR | 21 L/min | 1450 rpm | 15 HP | 3ph - 13,5 kW | 30 - 140 °C | 97x65x122 cm |
| NVY 25.160 | 160 BAR | 25 L/min | 1450 rpm | 10 HP | 3ph - 8,9 kW | 30 - 140 °C | 97x65x122 cm |
| NVY 25.200 | 200 BAR | 25 L/min | 1450 rpm | 15 HP | 3ph - 13,5kW | 30 - 140 °C | 97x65x122 cm |
| NVY 21.300 | 300 BAR | 21 L/min | 1450 rpm | 15 HP | 3ph - 13,5kW | 30 - 140 °C | 97x65x122 cm |
| NVY 30.200 | 200 BAR | 30 L/min | 1450 rpm | 15 HP | 3ph - 13,5kW | 30 - 140 °C | 97x65x122 cm |
Sturdy, impact-resistant and compact: • Structure made of a tubular frame and a thick platform, mounted on 2 fixed and 2 pivoting wheels for great manoeuvrability •  Thick stainless steel front and top covers, removable for efficient and immediate routine maintenance • 3 ceramic piston pump • 1450 rpm electric motor, continuous duty S1 • Pump-motor connection with double flange and elastic coupling • Pressure control valve  • Safety valve • Very robust, large-capacity integrated rotomoulded tanks • Anti-limescale product dosing pump, controlled by the PCB • Water filter • Fuel filtering system with 3 filters.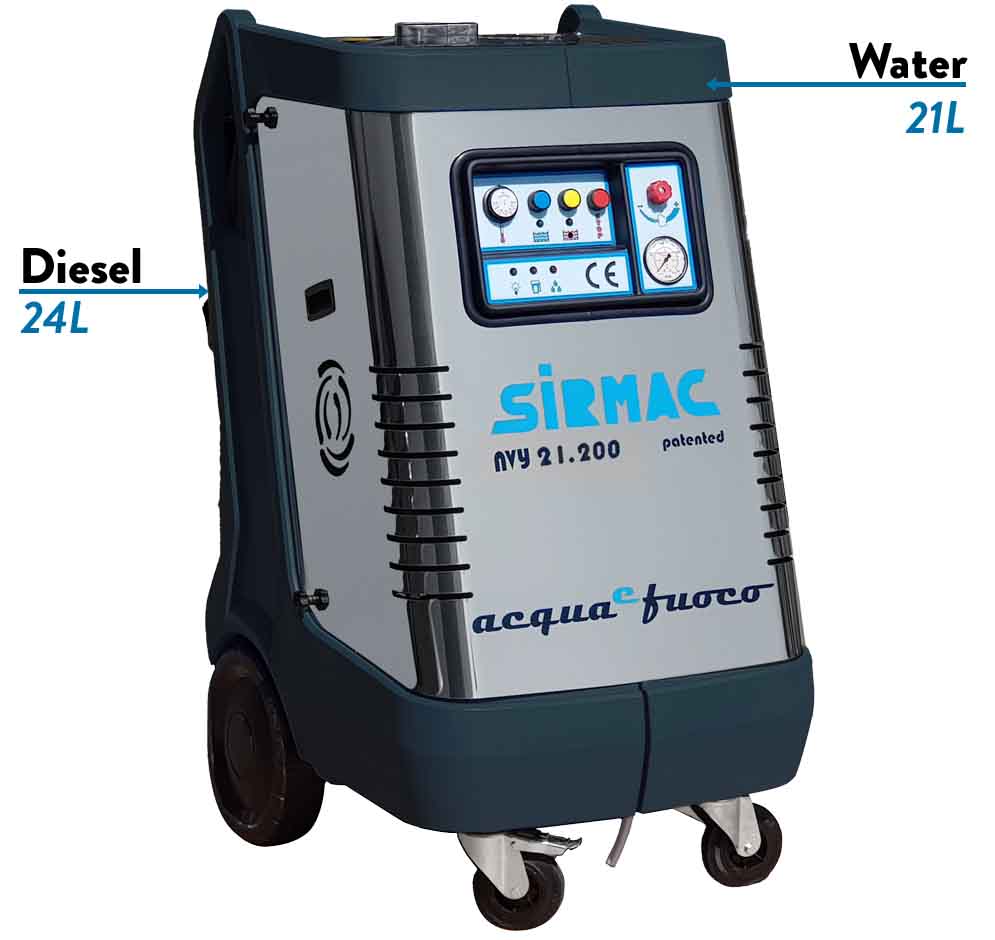 The 21 L water tank has been designed to have an extremely large capacity and difference in height between the water inlet and the suction. This allows the pump to be constantly fed under pressure, prevents air bubbles from being sucked in and compensates for any lack of inlet pressure.
The 24 L fuel tank has a large capacity and an internal level sensor that is sealed by contact with a gasket and not by expansion of a rubber ring. It also has a drain tap at the bottom.
The 10 L detergent tank can be removed (in 1 minute) for maintenance, giving easy access to internal components, or emptied and washed, allowing easy change of detergent.
The anti-limescale tank (3.2 L) is located at the back of the machine and also serves as a practical cable winder. It is equipped with a level sensor and a dosing micro-pump. A warning light on the control panel signals when the pump stops due to lack of anti-limescale liquid. The micro-pump will start up again after refilling.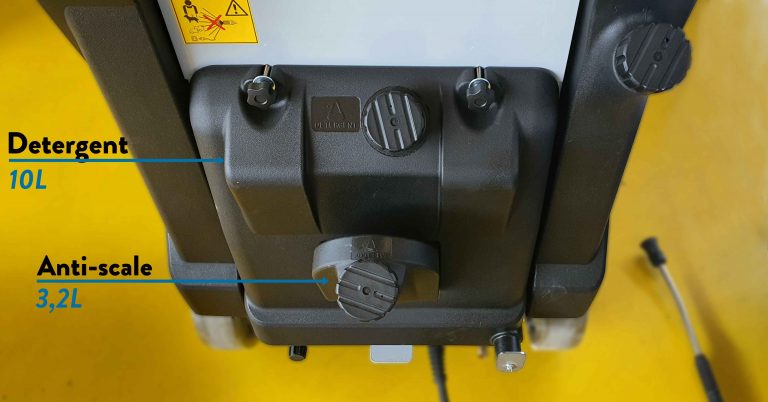 NVY is protected by a multiple security system: With regard to combustion, safety in the Acqua e Fuoco range is guaranteed by a microswitch (5), a pressure switch (4) and a flow switch (1).
The burner start and stop functions are regulated by sensing both water flow and pressure.
If one of the devices fails, signalling lack of flow or pressure, combustion is in any case immediately stopped or burner ignition is not permitted.
This multiple system gives an extra guarantee that combustion will stop even if the water no longer circulates in the coil, avoiding the risk of overheating.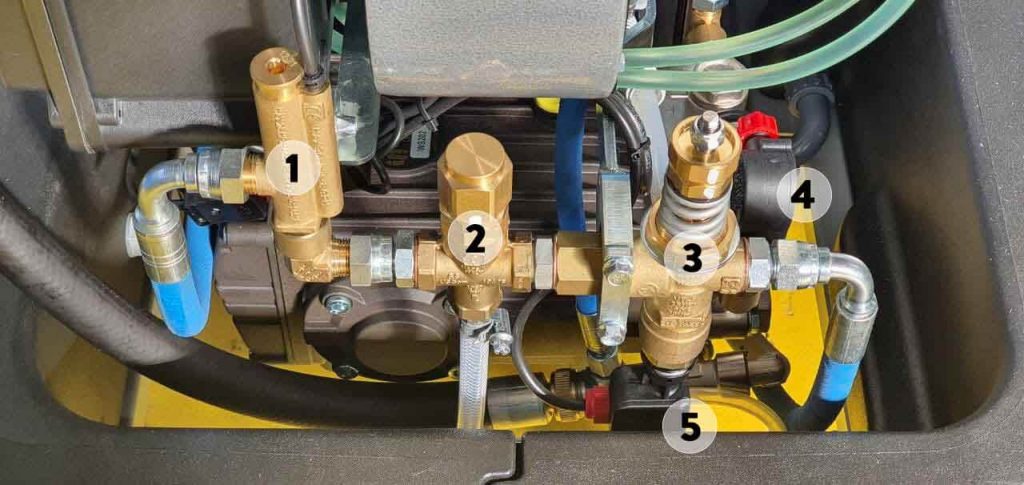 Simple and intuitive 24V control panel, complete with: • Pump start switch • Boiler start switch • Stop switch • Power indicator • Pump in operation indicator • Boiler in operation indicator • No fuel warning light • Lack of limescale indicator • Thermostat • Pressure gauge • Pressure and flow regulation valve  • The detergent control valve is located at the back.
Timed intelligent total stop: motor stops after 15 seconds with gun closed; total stop after 10 seconds of operation without water; total stop due to accumulation of 10 microleaks; safety system that disables all functions when the motor is not started within 60 minutes.
ROBUST AND IMPACT-RESISTANT
The load-bearing structure consists of a tubular frame and a very thick platform.
The frame is cataphoresis-treated and then painted with epoxy powders. This treatment provides greater resistance over time. 
To complete the bodywork, two covers, one at the front and one at the top, are made of thick stainless steel.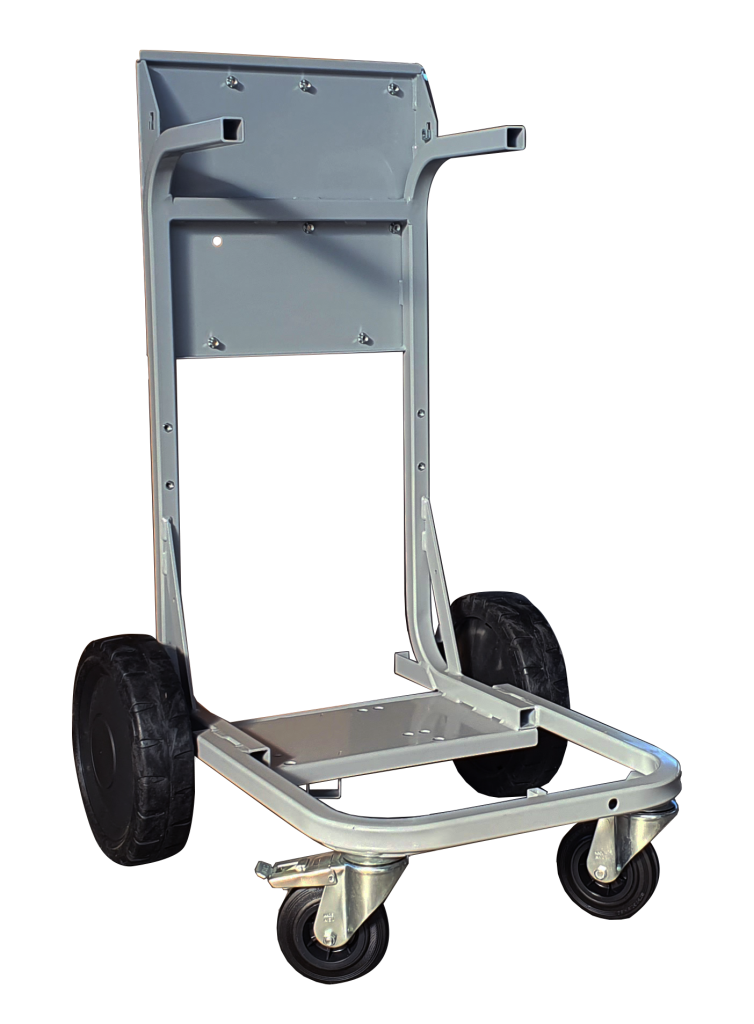 EASY AND QUICK ACCESS TO INTERNAL COMPONENTS
When designing Indra, great consideration was given to immediate access to each of its components.
Simply remove the front and top covers for easy access to the main components. For more in-depth maintenance, the entire tank assembly can also be removed for full access to the components.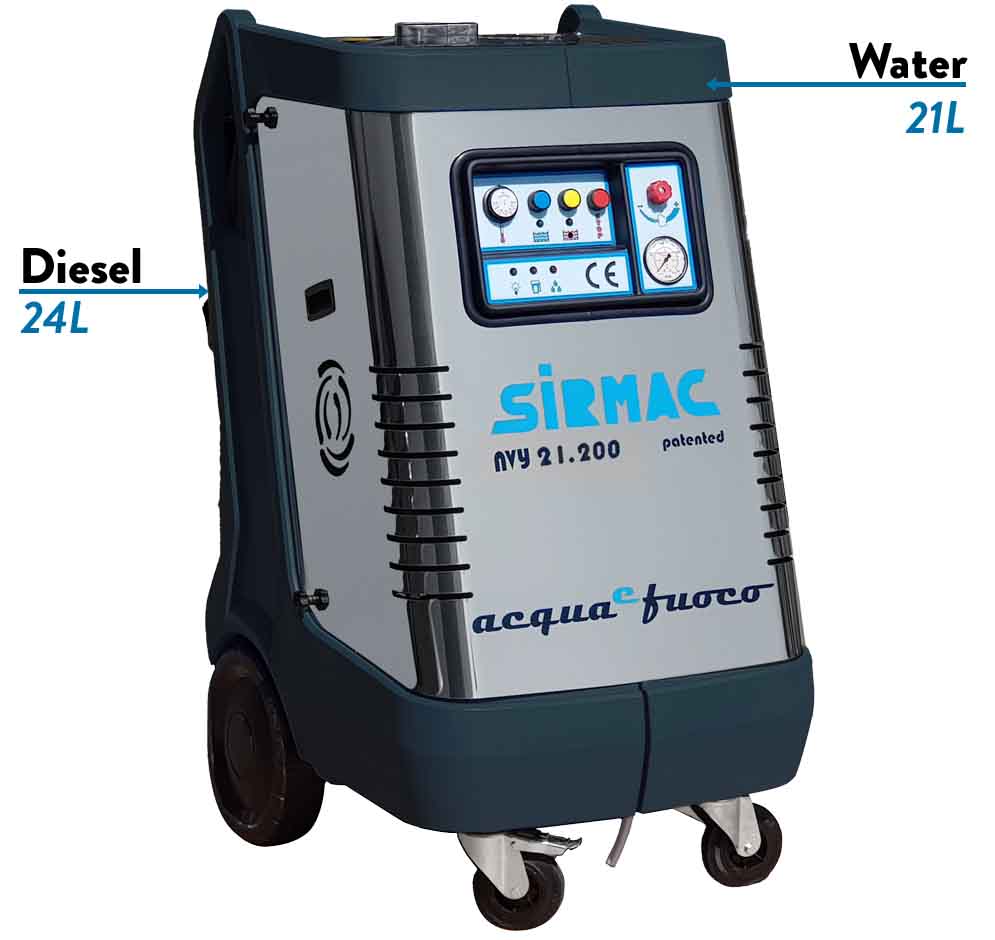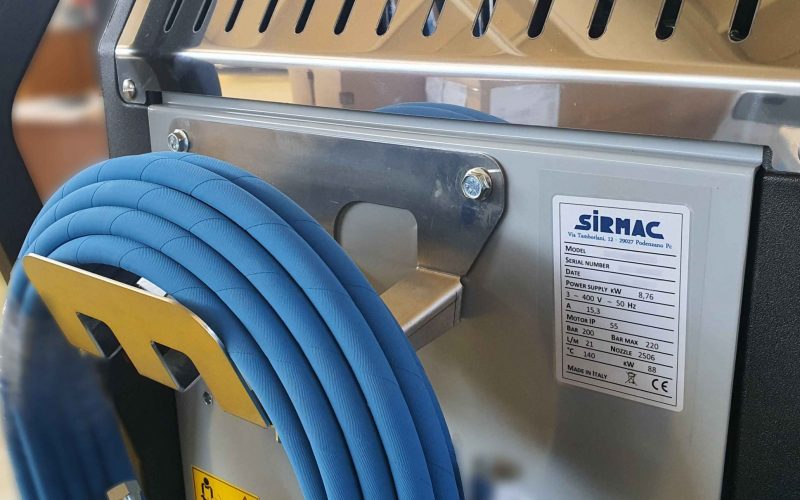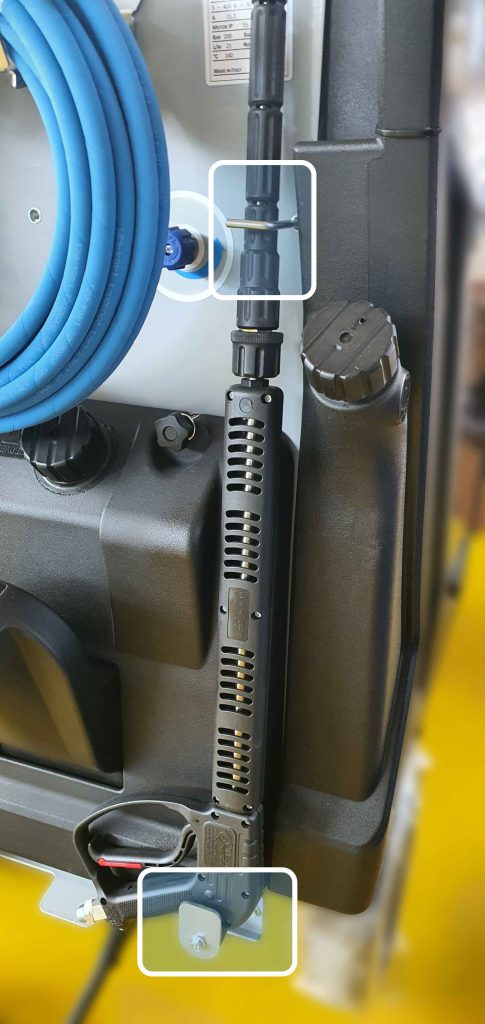 In addition to the considerable technical advantages described, its characteristic structure is extremely ergonomic. The handles at the back, unlike conventional high-pressure cleaners, are positioned at the correct height and make it easy to move the cleaner.
The lance has a dedicated housing: a stainless steel support and a stainless steel hook anchor the lance firmly to the back of the structure, making it easy and safe to move the cleaner.
The diesel filler cap at the rear is in an easy position. In addition, the anti-limescale tank serves as a convenient holder for winding the power cable. In the version without the hose reel, a stainless steel support can be fitted for the 15m high pressure hose supplied.
The typical structure of the Acqua e Fuoco range allows high power pump-motor units (up to 15 HP) to be housed in a reduced floor space, equal to that of small semi-professional high pressure washers.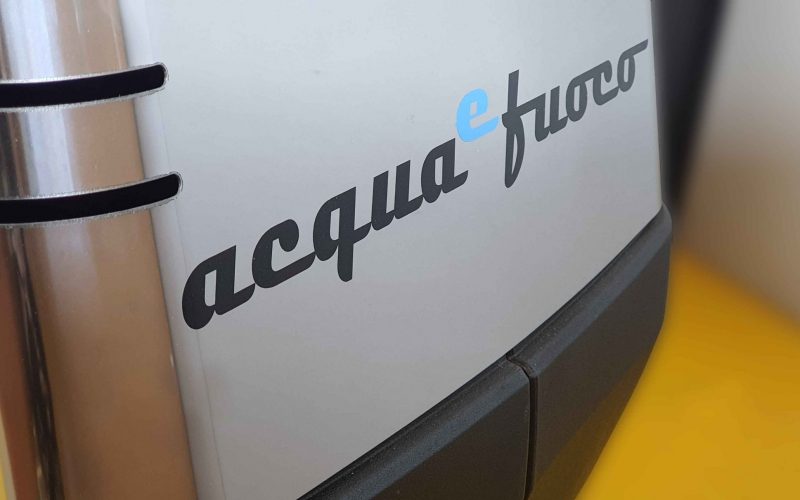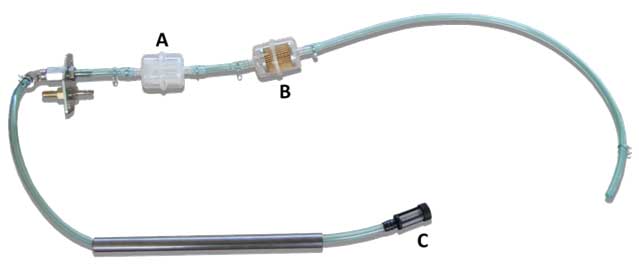 Diesel filtration system consisting of:
A.  Pre-filter, for the retention of coarse particles (120 µm)
B.  Cartridge filter to retain the finer impurities (31 µm)
C.  Self-cleaning filter immersed in diesel to prevent suction of processing residues. A counterweight keeps it constantly on the bottom.
The adoption of this triple filtration system does not allow the operation of the diesel pump to be altered, keeping the small emergency filter with which it is equipped clean at all times.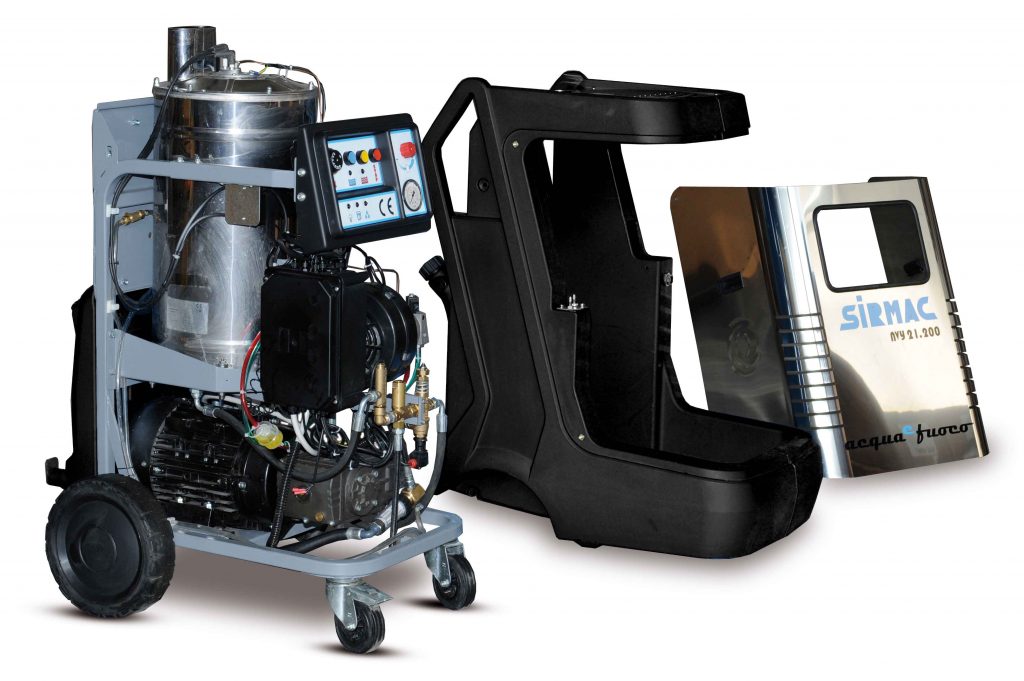 High-performance boiler unit
Noise emissions are so low that the high-pressure cleaner can be used to deliver hot water in frequented areas.
ARE YOU INTERESTED IN PROFESSIONAL HOT WATER PRESSURE WASHERS?
We will be happy to help you choose the best pressure washer.
The accessories are for professional use, in compliance with safety regulations. The included 15 m high-pressure hose allows to wash large equipment at a safe distance from the cleaner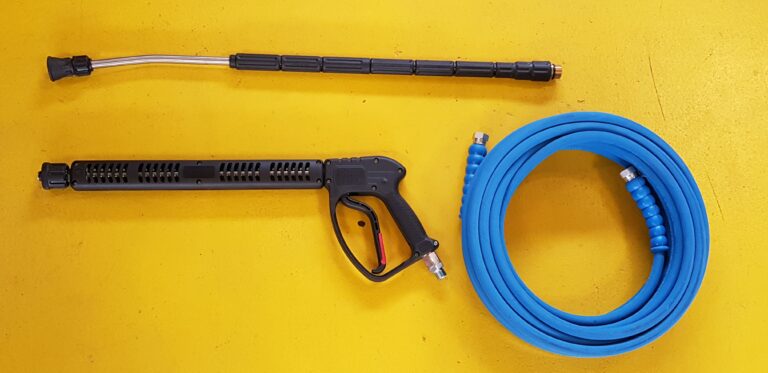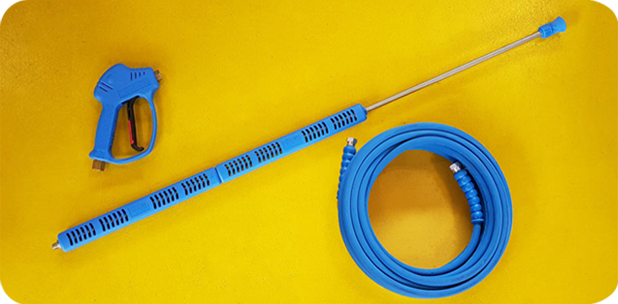 Our future shaped by over 50 years of experience.